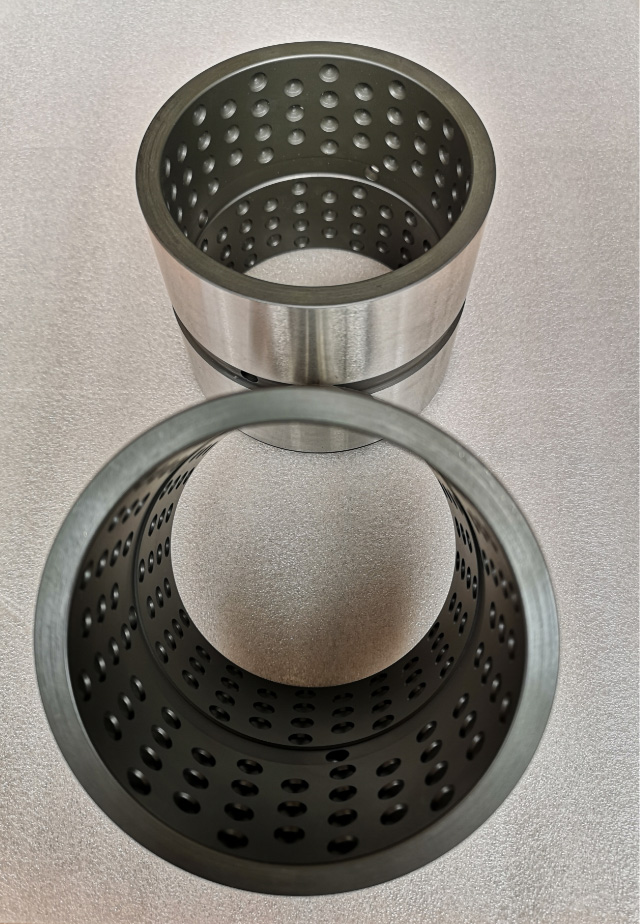 As a new processing material, coated steel bushing is widely used in Construction Machinery and Hydraulic parts. Using ferrous metal as the base material, through multiple complex surface treatment, designed for long life, high performance and low maintenance in extreme environments.

base matrial:
material: sorbite
Base hardness: 280-330HV0.3
Carburized treatment:
Hardness of Carburized layer>HRC57-62
Thickness of Carburized layer0.8-1.2mm
QPQ Treatment:
Hardness of QPQ Treatment: >550HV
Thickness of QPQ Treatment: 0.15-0.4mm
Coating Treatment:
Coating one or multiple self-lubricating layer
Designing cavities on surface, which can contain a considerable grease, in order to have a resistance to impact, wear, friction and corrosion under the protection of oil film. It's not only can solve the problem of traditional bushings arisen, such as easy to jam the cylinder, high noise, frequently replacement ,etc. but also has cost advantage.
The coated steel bushing can reduce the friction coefficient and wear resistance, while retaining the intensity.
According to the feedback from OEM over years, we develop an advanced self-lubricating friction pair material which coated on the surface of steel bushing through a special processing. The characteristic of Coated steel bushing DN#20CrMo are:
1.No additional oil or grease is required as a lubricant.
2.Can be worked at 300°high temperature without bearing burnt and journal sticking.
3.The steel bushing itself has High load capacity. Coating a special self-lubricating layer on its surface will assure a continuously self-lubricating in the operation process and protect the cylinder/shaft being pulled
4.Strong compression capacity, high load, high hardness and low friction coefficient.
5.High precision, good running in performance
6.Suitable for reciprocating, rotating, rocking and intermittent motion where oil film is difficult to be formed.